Georgian Khinkali Recipe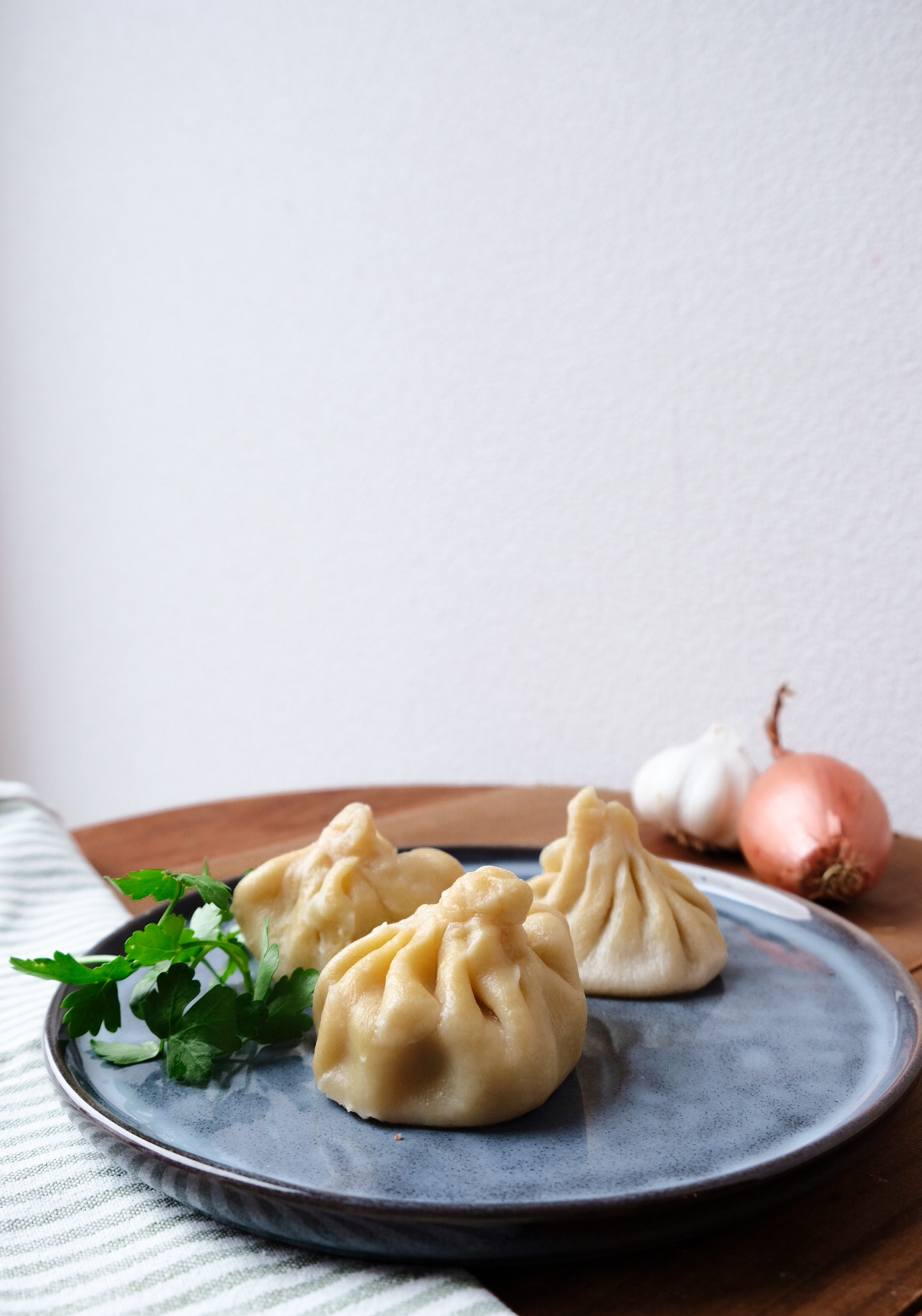 Khinkali might actually be one of the most famous Georgian foods. We visited Georgia a few years ago and were pleasantly surprised about the food, landscape and culture. Georgia turned out to be a country full of nice people, beautiful scenery and great food and wine.
Khinkali is a popular dish to order in a restaurant when with a large dinner party. We saw groups of friends ordering a plate of khinkali for the table. I find it funny that khinkali is such a social food, since it's impossible to eat looking nice. It's kind of like tacos and burgers, I guess. It's cheap, super tasty, and you just accept that you all look a bit crazy eating it.
So how do you actually eat khinkali? We were really struggling with this at first, when we ordered khinkali at a restaurant in Georgia. The best tip I can give you is not trying to eat it with a fork and knife. Georgians will laugh at you. It's a fingerfood, so use your hands!
From the design of khinkali you actually already get a clue obout how you should eat it. Pick up the dumpling with your hand, holding the doughy stem on top. You take a small bite and suck out the broth, before eating the rest of the filling. The stems aren't really great to eat so you discard these. (Rumors are even that you place the stems on your side of the plate, so you can keep count of how many dumplings you ate.)
Georgian Khinkali meat dumplings
Preparation time: 40 min preparing, 10 min cooking.
Khinkali is considered one of Georgia's national dishes. These tasty meat dumplings are filling, comforting, and full of flavor. There are many variations possible, as you can make khinkali with meat, with cheese, mushrooms or vegetables. And don't forget, it's a finger food so use your hands!
Ingredients
For the dough:

260 grams flour
120 milliliter water
1 egg
1,5 teapoon salt
For the filling:

75 grams ground pork
75 grams ground beef
180 milliliter water
2 small onions
15 grams butter
0,25 teaspoon pepper
0,25 teaspoon thyme
0,5 teaspoon coriander seeds
0,5 teaspoon cumin
1 teaspoon salt
1 clove garlic
How to make Khinkali meat dumplings?
To make the dough:
Mix the flour and salt.
Add the egg and water. Mix until it becomes a consistent dough.
Turn dough onto a floured surface and knead until elastic.
Let the dough rest in an oiled bowl, while you prepare the filling.
To make the filling:
Cut the onion and garlic into small pieces. And grind the herbs. (I like to use a food processor to cut the vegetables and mix the herbs).
Mix all ingredients together.
To finish the dumplings:
Split the dough in 4 pieces and place one piece on a floured surface. Roll out the dough and cut out circles from about 6 cm.
Roll out each of the dough circles to make a larger circle (about 10cm).
Place a tablespoon filling in the middle of the circle. Pick up the dough circle and start fold around the filling until you come around. Twist and squeeze the top to close the dumpling.
Repeat for all dumplings.
Boil a large pot of salted water. Carefully add the dumplings to the water and let cook for about 10 minutes.
The dumplings start to float when they are ready. Serve the khinkali with some fresh grounded black pepper.